TALENT SOLUTIONS
Talent Consulting
Designed for transformational impact during peak performance needs, Preacta's Talent Consulting is a bold partnership that translates business strategy into workforce strategy. If you're ready to reshape and redesign how talent is assessed and engaged in your organisation's hiring processes, Preacta's Talent Consulting is the solution for you.
See the
Transformational Impact
GROUNDBREAKING INSIGHTS
Backed by a world-class team of experts, Preacta's innovative talent solutions will turbocharge your talent management and talent operations to the cutting edge.
A CLEARER FORECAST
We provide business leaders with the insights they need to identify top talent, assess risks and opportunities, and make strategic decisions about their investments in talent today & for years to come.
ETHICAL REPORTING & TRANSPARENCY
Our approach to consulting is unmatched in the industry. We are dedicated to providing the highest level of service possible with ethical reporting and transparency.
READY TO SCALE
Our expert team is equipped and experienced with the knowledge needed to advise business leaders on positioning their companies to scale successfully in hyper-competitive markets.
Optimised Talent Solutions
Tailored for Hyper-Growth
REA was looking to embark on a considerable growth journey. By offering property data insight and entering into the finance mortgage brokering business, REA was hoping to captivate the market. REA Group needed the right people to help bring this vision to life.
Because of the hyper-competitive nature of the real estate market, REA Group needed a solid and innovative team on its side to reach the cutting edge of the market.
With a commitment to performance, transparency, and continuous learning, Preacta worked with REA to develop a new interview process that leveraged the best practices in the industry. This reduced the time from submission to placement by an impressive 41 days. Additionally, the Preacta team implemented a real-time reporting dashboard and utilized Talent Intelligence to empower more data-decision hiring.
Preacta's Talent Solutions team worked with REA Group to quickly fill core leadership positions, reduce costs and time to hire, and revamp its recruitment process across the board.
The data and expertise Preacta provided to REA leadership resulted in a process overhaul that fulfilled their short-term engineering goals while creating a scalable recruitment function to sustain hiring in the future.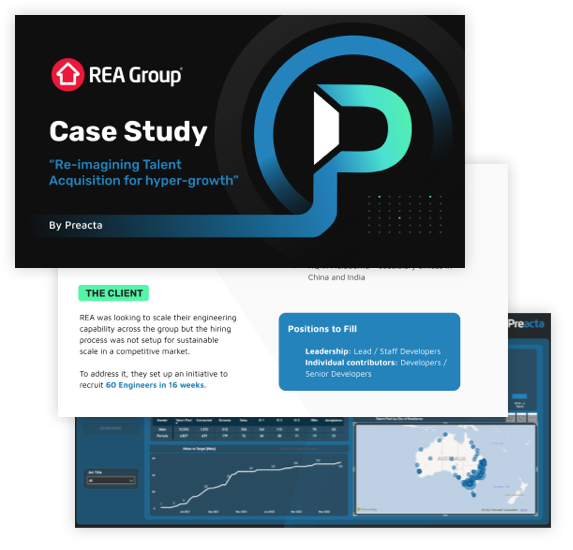 Real-life success stories
"We introduced a marketplace that allows REA to bench successful candidates until a role opens up for them. The Marketplace allowed us to hire candidates within the same day of requisition being approved."
Kavon
Talent Lead, REA Group
Confidence to Make the Best Decisions Possible
Our Talent Consulting will help you settle the war on attracting and retaining the best talent available. Preacta's team of experts will provide you with innovative data analytics and cutting-edge research to empower you in making the best possible decisions for your short or long-term business needs.
Our Consultations Spark Real
Growth & Transformation
With unmatched expertise and customer-centric results, Preacta is on a mission to help emerging markets within the digital and technological landscape thrive. From employment opportunities to consulting to innovative end-to-end solutions for Talent Acquisition, Preacta is building a brighter future for businesses just like yours.